EPIROC/ATLAS COPCO MULTI GRAPPLES
Sort & recycle all fractions.
Thanks to their particularly robust design, our MG multi grapples are suitable both for sorting and loading demolished materials as well as for demolishing light buildings (masonry, wooden structures).
Our multi grapple concept is offering low operating weight with high gripping volume. Maximum loading performance and high gripping force help to increase your demolition performance.
Click here to download the latest brochure.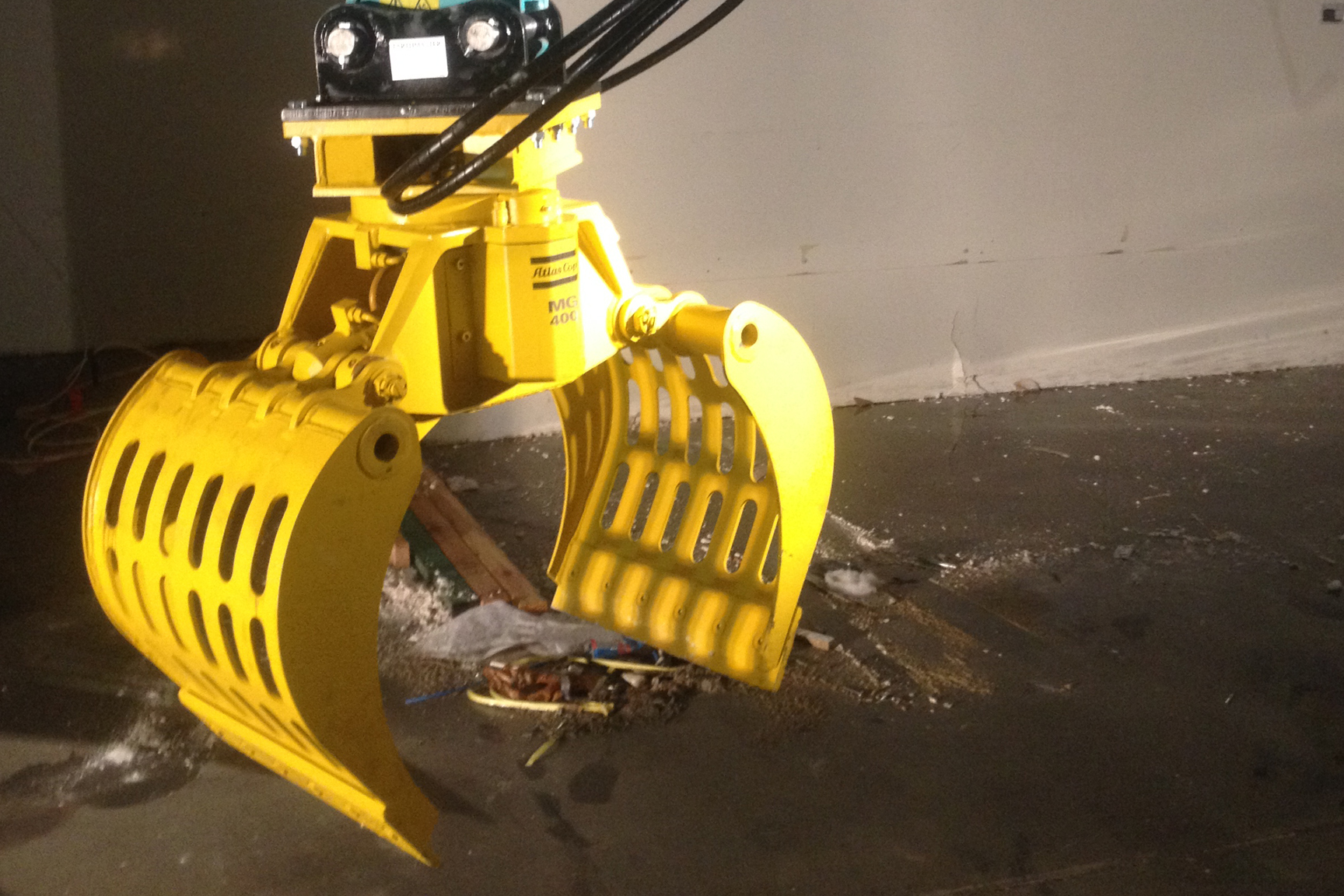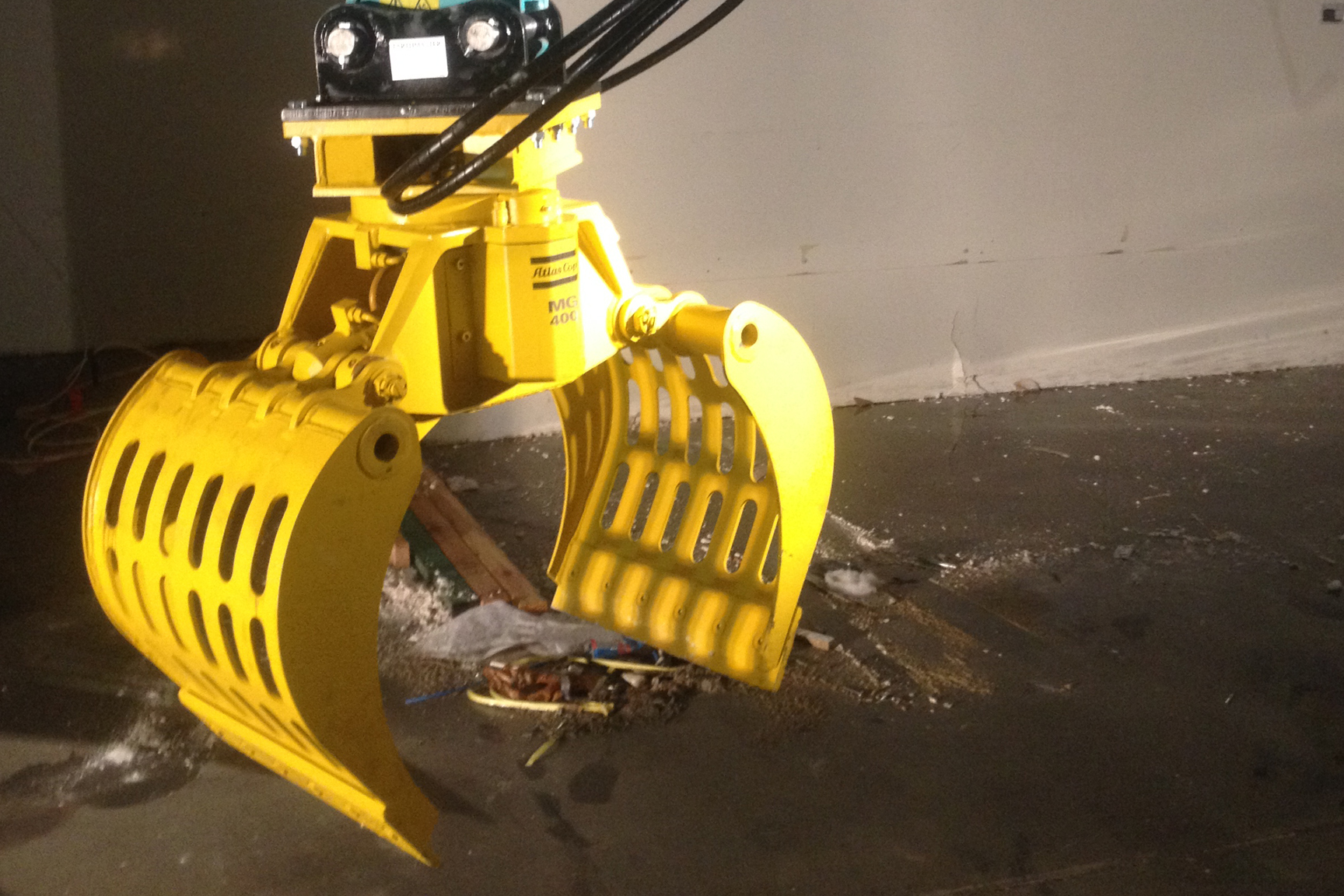 | | | MG 100 | MG 200 | MG 300 | MG 400 | MG 500 | MG 800 |
| --- | --- | --- | --- | --- | --- | --- | --- |
| CARRIER WEIGHT CLASS* | t | 0.7-1.2 | 1.2-3 | 2-5 | 4-8 | 5-9 | 10-16 |
| SERVICE WEIGHT** | kg | 90 | 175 | 290 | 450 | 460 | 825 |
| MAX. CLOSING FORCE | t | 0.6 | 1.5 | 2 | 2.3 | 2.4 | 3.8 |
| OIL FLOW, OPEN/CLOSE | l/mm | 15 | 25 | 35 | 40 | 35-50 | 70-100 |
| OPERATING PRESSURE, o/c | bar | 300 | 300 | 300 | 300 | 300 | 350 |
| ROTARY DRIVE | | HYDR. | HYDR. | HYDR. | HYDR. | HYDR. | HYDR. |
| OIL FLOW/ROTATION | l/min | 3-5 | 5-10 | 5-10 | 10-15 | 10-15 | 20-25 |
| OPERATING PRESSURE, ROTATION | bar | 150-170 | 150-170 | 150-170 | 150-170 | 150-170 | 190-210 |
| CAPACITY | l | 30 | 70 | 100 | 150 | 200 | 400 |
| JAW OPENING | mm | 600 | 750 | 1,160 | 1,400 | 1,500 | 1,700 |
| GRAPPLE WIDTH | mm | 300 | 450 | 500 | 600 | 700 | 800 |
| | | MG 1000 | MG 1500 | MG 1800 | MG 2300 | MG 2700 | MG 3000 | MG 5000 |
| --- | --- | --- | --- | --- | --- | --- | --- | --- |
| CARRIER WEIGHT CLASS* | t | 12-20 | 16-24 | 20-28 | 25-28 | 28-45 | 35-50 | 45-100 |
| SERVICE WEIGHT** | kg | 1,150 | 1,700 | 1,800 | 2,280 | 2,750 | 3,250 | 5,300 |
| MAX. CLOSING FORCE | t | 4.6 | 6.8 | 6.8 | 8 | 9 | 9 | 13 |
| OIL FLOW, OPEN/CLOSE | l/mm | 85-120 | 120-170 | 150-170 | 160-180 | 180-200 | 180-200 | 280-300 |
| OPERATING PRESSURE, o/c | bar | 350 | 350 | 350 | 350 | 350 | 350 | 350 |
| ROTARY DRIVE | | HYDR. | HYDR. | HYDR. | HYDR. | HYDR. | HYDR. | HYDR. |
| OIL FLOW/ROTATION | l/min | 20-25 | 30-35 | 30-35 | 30-35 | 30-35 | 30-35 | 50-60 |
| OPERATING PRESSURE, ROTATION | bar | 190-210 | 190-210 | 190-210 | 190-210 | 190-210 | 190-210 | 190-210 |
| CAPACITY | l | 500 | 800 | 850 | 900 | 1,000 | 1,300 | 1,600 |
| JAW OPENING | mm | 1,950 | 2,100 | 2,100 | 2,250 | 2,230 | 2,460 | 3,000 |
| GRAPPLE WIDTH | mm | 800 | 1,000 | 1,200 | 1,200 | 1,200 | 1,500 | 1,500 |